Choose the Product
of the Year protection
AV Comparatives - January 2022
McAfee

Internet Security 2023

1 year subscription

Windows

Mac/iOS

Android

Chrome OS

Recommended

McAfee

Total Protection 2023

1 year subscription

Windows

Mac/iOS

Android

Chrome OS
Internet Security
2023
Total Protection
2023
100% protection guarantee (refund if infected)
Protection against identity theft
Parental control (only on the 10-device version)
Open the comparison
Close the comparison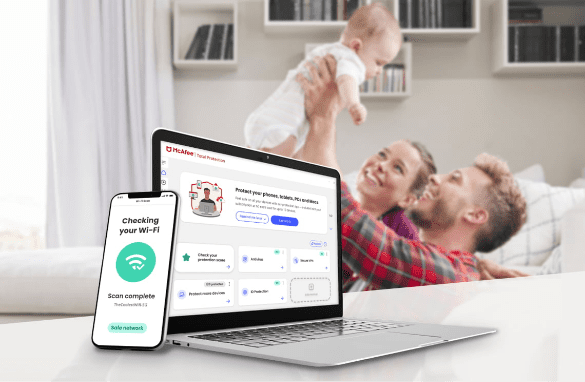 McAfee Total Protection is an all-in-one security solution for protecting your personal information and privacy, so you can enjoy life online without fear of malicious code, ransomware, hackers and other forms of potential threats.
The suite includes premium antivirus, safe browsing, identity monitoring and secure VPN for all your devices - computers, tablets and smartphones.
Microsoft Windows 11, 10, 8.1 with all patches (32 and 64 bit).

macOS 10.15 and later (earlier version covers macOS 10.12 - 10.14 but with some options removed)

Google Android 7 or later smartphones and tablets

Apple smartphones and tablets iOS 13 or later

ChromeOS
*Safe Connect Unlimited VPN is conditional on activating auto-renewal when you create your account on the McAfee website. If you do not wish to enable auto-renewal, the bandwidth of this module will be limited to 500 MB/month.
McAfee

Internet Security 2023

1 year subscription

Windows

Mac/iOS

Android

Chrome OS

Recommended

McAfee

Total Protection 2023

1 year subscription

Windows

Mac/iOS

Android

Chrome OS